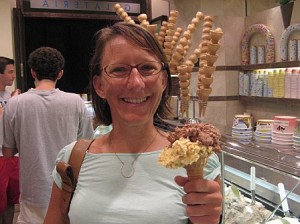 "Whoever is happy will make others happy, too." – Mark Twain.
I just came back from an Adriatic Cruise, visiting Venice, Bari, Bologna, and Dubrovnik. Due to flight issues on my previous Baltic Seas Cruise, I decided it would be wise to arrive a day early and leave a day later. This allowed extra time in Venice, off the ship. Happiness was observed far and wide.
My communication skills were lacking in the Italian language; nevertheless, having an Italian friend here in the States helped because I already knew that "Ciao, Bello" meant Hello Handsome Man, so I used that to my advantage whenever possible. Additionally, the word "Grazie" for thank you, was the only other Italian word I knew how to say. I never had any problems communicating with the native Italians I met because of one major thing…smiling. Smiling is the window to happiness and instantly helps make other people feel as though you understand and accept them.
The first full day in Venice was filled with happiness and bliss. I took many pictures and videos of tourists smiling, laughing, holding hands, and being in love. As I peeked down every canal and lagoon, I watched the gondolas with lovers kissing and surveyed people as they scrutinized the lovers. I observed scrutiny quickly tuning into happiness. Seeing others be happy or having their hearts filled with happiness makes one's own heart happy also. Venice is such a romantic city, with vendors, boats, gondolas, and people from many foreign countries, all coming together. I don't remember seeing anyone who looked grumpy, except for some crazy Americans who were dragging their suitcases all the way from the train station to the Metro buses far away, up and down many concrete flights of stairs. I guess they did not read Trip Advisor in advance and learn that was not the best mode of transportation upon arrival in Venice.
Gelato, or ice cream, is another contagious and delicious treat that brings smiles all over Italy. I discovered gelato stands in each city I visited. It was interesting that the stands were never empty at any time of the day, morning or night. The minute the gelato carts were rolled out, people came out in masses. They would wait, like I did, for 20 minutes if that is what it took, to get their little scoop of gelato because it made them happy–plus, it was delicious. Yum, for lemon gelato! I never saw a sad face in any of those crowds near the gelato stands.
In Childhood Development Psychology, we learn that tiny babies as young as six weeks old, learn to smile back at their care-giver when seeing a smile. This is not a nature vs. nurture issue–it is a matter of happiness and feeling secure. On the flip side, have you ever noticed that a 12-month old baby in a shopping cart will turn his or her head to find the child who is crying three aisles over? The same is true when this baby is in the same aisle with another baby being pushed by his or her caregiver and notices the other baby is smiling. Both babies will end up smiling. One smile will bring happiness to the other child. Perhaps we learn this when we are just babies. If not, we should.
When you smile at a stranger, even 5880 miles from home, your happiness becomes their happiness, too. What a wonderful feeling to know that something as simple as a smile can be contagious and make another person happy, even if they have had a lousy day.
See previous blog titled:  " Wealth – Does Wealth Affect Your Happiness?" (The Happiness 5-part series blog posts).
©Copyright — Gayle Joplin Hall, PhD.  All rights reserved worldwide.  None of this material may be downloaded or reproduced without written permission from the author.