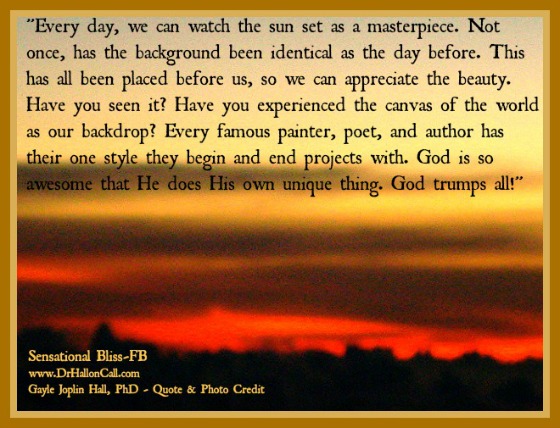 "I laid on the front sidewalk at 11:10 tonight with my long winter coat, hat, and gloves on (with my son) and gazed at the sky for 30 minutes. Taylor could not believe I would lay on the sidewalk in the dark-it was my idea! I enjoyed being outside in the dark, crisp, air, away from working at my desk, reviewing grant proposals. I saw four shooting stars. It was a beautiful night. There is beauty everywhere" ~ Dr. Gayle Joplin Hall.
          When was the last time you took a break so you could enjoy natural beauty? I'm not trying to be a smart-mouth – really, I'm not. But, when was the last time you noticed what God has made for us? Every morning and every night, He creates a masterpiece that is completely altered than the previous day.
          If you stop and think of every renowned poet, author, or artist, each has his or her own style. And, for the most part, they stick to it. God doesn't stick to any one panache or pattern. He switches it up diverse every day and night and it's always a perfect picture. For man-made beauty, I'll use art and canvas as an example. I love Impressionist art most of all. People, who know me personally, identify my love of Claude Monet. As his eyesight grew worse with age in his 80's, his paintings of the water lilies and other groupings, beautifully blossomed into his best works of art. Van Gogh, Renoir, and Monet reproductions grace the walls of my home. I love beauty and beautiful things, especially in my household.
          In the dead of winter, no flowers are blooming, the trees look naked, and yards are brown, instead of their lush green color. Nevertheless, I see beauty. The silhouettes of the tree limbs dance against the sky when the wind is blowing. Birds are singing and calling out to each other as they work together building nests to lay eggs. Hearing the Cardinals sing their melodies delights me. When do these beautiful birds sleep? They sing even during the night outside my bedroom windows. Seriously, do any birds sleep? I have no clue.
          I am a late sleeper in the mornings, since I do not go to bed until the hour when many others are getting up. Therefore, I miss out seeing the sunrise most of the time. However, that was not the case in Kauai last November. As I stood on the deck of the rented B & B House, I snapped one picture after the other of the sun rising. The ocean was below the clouds, palm trees framed the sides of my camera lens, and for 20 minutes, I watched the sky as it turned from black, to dark orange, light orange, yellow, dark blue, and then light blue. It was definitely a gorgeous sight. The sunsets in Kauai were equally as pretty, but you had to have your camera ready to snap the shots quickly. I had been forewarned by the natives that the sunsets lasted only 10-15 minutes when the sun started to go down. I was thankful for that warning, because I found it to be very true.
          If you open your eyes and your mind to the wonders that God has placed before us, you will not be disappointed with His plans for us to enjoy all the natural beauty He has created. What beauty will you experience today?
©Copyright – Gayle Joplin Hall, PhD.  All rights reserved worldwide.  None of this material may be downloaded or reproduced without written permission from the author.