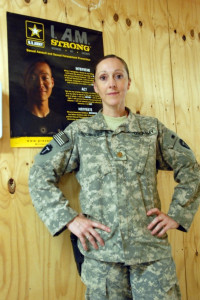 "A battlefield is a battlefield. I don't care where you are fighting it. Unless you have lived through fearing for your life on a nightly basis, you cannot imagine what war is like." – Dr. Gayle J. Hall.
A victim of domestic violence fights for her life on a daily basis, just like a soldier on the front line of combat fights for his. Now, this may be difficult for soldiers to understand and may even make some angry. They may say, "I sure did not see any women out there on the front line with me when I was at war. What the hell! How can you possibly compare the two?" Here is my reply to those remarks. You are 100% correct. A woman may not be on the front line of combat in Iraq or Afghanistan. Nevertheless, if a woman is living in a ferocious domestic violence situation in her own home, she may be facing the front line of combat nightly right in her own living room with the very same person she must sleep next to.
The following are four common denominators between victims of domestic violence and soldiers once they are out of the war zone:
1). Post Traumatic Stress Disorder (PTSD). We are now seeing a higher rate of PTSD with our soldiers returning from war than ever before. My belief is that the soldiers understand they can talk about what they have witnessed without the feelings of shame and guilt. On the other hand, victims of domestic violence who suffer from PTSD (and not all do — only about 20%), still have some of the symptoms of PTSD more than five years after being out of the abusive relationship. Domestic violence victims who fit this category may still suffer from flashbacks, intrusive thoughts, and sleeplessness.
2). Both the victims of domestic violence and soldiers have problems with maintaining attention for any period of time. This common factor causes them to be restless. They have been trained to listen for sounds so they may take control of their situation during an attack. A battered woman must learn to flee her abuser or retaliate, while the soldier has learned to kill or be killed.
3). Generalized Anxiety Disorder (GAD) is very common for any survivor of abuse or soldier returning from war. This means the person is a "worrier" and worries about anything and everything, for no apparent reason. For the survivor of domestic violence, she has been under the rule of her mate and has not been allowed to think for herself. Regarding the soldier, he has been told 24/7 what to do and must now try to blend back into society and make decisions daily. This may seem easy to a regular person; however, for a soldier, having to make daily decisions may be overwhelming at first. Both the soldier and the battered woman may suffer from Obsessive Compulsive Disorder (OCD).
4). Proximity and personal space will be common issues for both the domestic violence victim and soldier returning from war. Victims of domestic violence have sometimes been kept from their friends and family during the relationship with their abuser. They may want extreme closeness, or may be so used to abandonment, they prefer being left alone. Soldiers have, for the most part, been in groups and sub-groups. They are used to their "own kind" and this is their preference. They would choose to not venture into large crowds of unknown people and may not even be comfortable going to the grocery store.
I hope these four descriptors of similarities for domestic violence survivors and soldiers have helped you understand some of the complications from living in a battlefield. War is war and adapting afterward takes time, both for victims of domestic violence, as well as soldiers in our Armed Forces. Thank you, God, for our brave warriors!
©Copyright — Gayle Joplin Hall, PhD. All rights reserved worldwide. None of this material may be downloaded or reproduced without written permission from the author.