"I don't care what anyone says about aging, maturity, or getting older.  I swear…I will do everything in my power to stay as hot-looking as I am right now until the day I die.  Is that vain?  Heck, yes.  My looks are important to me, just the same as my health, my friends, and my family.  Why would I choose to "let myself go" just because I am getting older?  No way, that is not my style" ~ Dr. Gayle Joplin Hall.
Our age does not define our will and our heart's desires. Although no one can ever have power over the natural process of aging- not even the brightest minds and the highest technologies, you can take steps to preserve your beauty and vibrancy to last and get even hotter as you mature. A healthy lived life is the key towards graceful aging.  Aside from this, there are also other things that should be considered.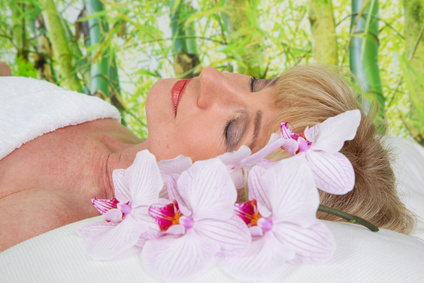 Many people, especially women, have a difficult time looking in the mirror every day, watching how the aging process eats away at our beauty. Women just hate having a lot of flaws with their bodies, such as cracked, dry skin, bad hair styles, or imbalanced skin tones. Women try their hardest to find ways to maintain or improve their looks.  Believe it or not, this can be accomplished without plastic surgery.
Here Are Seven Quick Steps to Look Smoking Hot at Any Age
EXERCISE REGULARLY:  Regular exercise is the basic and the foremost step towards getting a fabulous figure and a well functioning body. Exercising is the solution to maintain your fitness levels and good shape for most of the time. Apart from keeping your body physically fit, physical exercise also promotes sweating. The body's sweating, in turn, will help to eradicate the toxins in the body. Exercises that give attention on strengthening the heart, bones and muscles are the highly suggested ones.
EAT:  One common misconception that people have these days is that when you eat, you get flab. That is the reason why many are skipping or limiting their meals, or restricting their food intake to vegetables alone. That is not right and very unhealthy. Remember that the human body needs a variety of vitamins and minerals that are essential for its proper function and good health.  These can be found in vegetable, fruits, and meats. That's why complete, balanced, eating is very essential. Do not starve yourself by skipping meals, aiming to shed off extra pounds because that will not work. If you starve, you'll feast in return, so there's no sense skipping a meal if you will just consume double-double the amounts on your next meal. Eat a balanced meal, eat on time, limit snacking and refrain intake of oils and junks- that will surely work.
PAMPER YOUR SKIN:  Do a body check and know what your skin needs. You may want to try any of the following: Indulge in frequent massage sessions to help with good skin tone.  Buy a moisturizer that is suitable for your skin type to prevent wrinkles and dryness, as well as to nourish and keep your skin glowing.  UV rays are the skin's greatest enemy, so protect your skin by applying a sunscreen lotion or cream every time you expose yourself out in the sun.  Exfoliate to remove dead skin cells and to give your skin a new and healthy glow.
KEEP YOUR NAILS AND HAIR CLEAN AT ALL TIMES:  Apply some lotion of any kind and massage on your nails to keep them looking healthy and fresh. Also, get a manicure and pedicure done on a regular basis and choose a color that looks refined and professional.  Do your hair. Keep your hair neat and clean at all times. Choose a shampoo and conditioner that can make your hair smell good – a hair solution that can go well with your hair and scalp.  Screw your age…select a hairstyle you love that will compliment your face.
DRESS UP:  Dress up nicely and accordingly because the way you choose what you wear is the way what other people will look at and approach you. Go for a sophisticated and elegant look if this is your style. Remember to go with the clothes that will flatter your figure and will bring out your inner youth.  Don't try to be somebody you're not.  I prefer to wear "hippie-style" clothes for casual wear because this is my personality.
WEAR MAKE UP AND FABULOUS PERFUME:  The scent that you wear is very important. Wear a perfume that is mild and will not be overpowering.  It is far worse to have too much perfume on than too little.  And do not forget to wear light make-up that will augment your facial features and beauty.
BE HAPPY:  Lastly, enjoy the life of being a matured person because your aptitude to be in high spirits will help you live longer, healthier, look and feel younger for the rest of your life.  When you are happy, this joy exudes to those around you.
Hopefully, these seven steps will become part of your regular routine in maintaining your youth and beauty.  They are easy to incorporate into everyday life.  Once you implement these stress-free steps, you will be amazed just how easy they are to do and also, you will notice a difference in your appearance and attitude.  Now, go and conquer the world, you smoking hot woman!