"Divorce sucks.  It just sucks and there is no other way to say it.  My parents have been married for almost 60 years ansd I always thought this would be my life, too.  But it just hasn't worked out that way.  My first marriage lasted 17 years and ended abruptly when my husband confessed an affair he had been having for the past five years.  He thought I should forgive him and our lives should just "carry on."  He could breathe easier because he had gotten this off his chest.  I was crushed and devastated.  For the first time in 18 years, I was in the dating market again" ~ Dr. Gayle Joplin Hall.
Divorce is one very tough situation to go through. It's very stressful and tiring, both in the physical, as well as in the emotional aspect, for two people.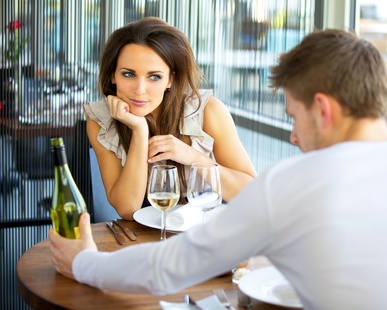 Many would ask when is the perfect moment to start dating after a divorce. The answer totally depends on the individual and how he or she manages to cope with the healing process. One thing you should keep in mind is that it is important to take your time in the process of healing. Enjoy being single for quite a while, so that you can concentrate on your life, your goals, and your future plans before you start seeing someone new. By doing so, you can assure that you already have given yourself enough time to let all the difficulties of the past relationship subside and you can declare, without hesitation, that you have moved on and are ready to meet someone new.
When you're officially and legally divorced and finally back to that single status, you are now in the best position to get going in life. However, it is important not to put yourself in the singles market in a desperate way and not to rush into new relationships. Maximize your time to do things right, at the proper time, with the correct person, and with the most appropriate feeling.
Since dating after divorce is considered as one difficult, yet extremely exciting new phase of one's life, you should be guided on how you must do things in a proper way as you get back into the scene again.
Here are seven dating tips that you can follow after your divorce:
Make sure you have already started your social life before you start to date again.
Go to parties, meet old friends and make new friends first. Perhaps you should give social media a try and then choose one suitable person to date. Remember not to show your impatience and immediately date that first person you have come across. This will send a wrong signal to the one you are planning to date at a later time.
Prepare!
Prepare yourself by going to the gym and eating healthy. These things will help you get ready to show the world the new you and the new positive life you are forging ahead. Remember that if you are putting yourself in the singles market, you have to stand out and be an attractive person among the others.
When you go out on a date, do not talk about your past.
This is an intense mistake you should do so! Do not talk about your ex or how frustrated you are in your life, because that will turn-off your date and for you. In return will become a total date failure. If you want to vent about your past and get angry, do not go and bust it all out on your date.  See a professional Lifestyle Coach, Counselor, or Therapist, instead.
What you must do is to carry a great attitude about your life and think about how lucky you are for another chance that you get to seek for a new person who might be out there just waiting for you. Perhaps you will fall in love and find true love this next time.
Do not compare your ex to your new date.
You have to leave all bad and bitter memories behind. Do not make the mistake of comparing your new date with your ex.  They are two different individuals. In addition, comparing can also spoil the new relationship you are building with your date and can even spoil your self-respect, as well.
Don't just settle on one source on dating.
Dating sites have been very common dating matchmaking these days. With one single click, you can easily get a list of people who are computed as your match. Why not be your own personal matchmaker? Go out, explore and meet new people personally. That will be more fun and you will also get the chance of seeing that individual right in the eyes.  Additionally, you can see how that person carries himself around new people. The impression that you will get when seeing someone in person is different than those you see only through profiles in online dating sites.
Don't waste any of your time with people who are not ready to give you a hand.
Your best friends are the most supportive people you can go to. Make use of their support to search for a new date. New-date searching is one challenging quest for you, so use all the support and resources you can have.
Make sure that it feels right.
When you choose someone to seriously date, make sure that it feels good.  Remember that in order for you to enjoy fully the advantages of going out on a date with a new person, you must have already let go of your past. You must be able to see yourself extremely happy with the one you are with right now.
These are seven quick tips that you can bring into play so you can enjoy a wonderful dating experience after divorce. Just remember that you need to meet people out and about. Smile, be friendly, flirt a little at appropriate times, go to parties and mingle, and ask your friends for help and advice.  Put yourself out there.  Happy dating!