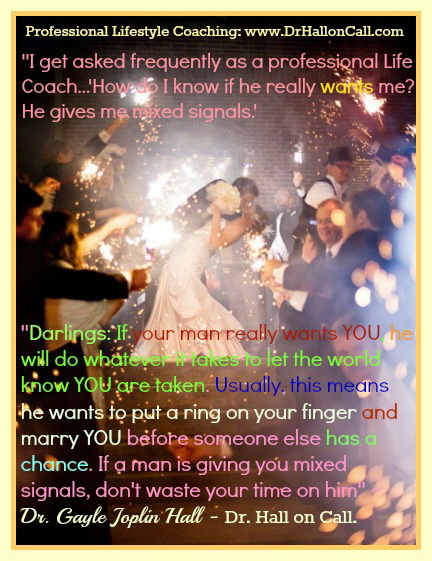 "February is the month for lovers. That's just great if you are wildly in love with your best friend – you know – the one you want to spend the rest of your life with.  But what happens when your partner bails on you? What happens when he tells you that he has been secretly seeing another woman for the past five years of your relationship and just "has to get it off his chest?" What happens when your whole world comes swirling down, right along with your panties, and everything falls flat on the floor?  Yes, this happened to me and it hurt. It hurt like hell and it broke my heart. How was I ever going to recover from a blow like that?"

~ Dr. Gayle Joplin Hall
I am trying to think if there has ever been a time that I have been glad a relationship was over and you know, there has. There have been several times during dating and also, during my second marriage, when I was so ecstatic the relationship had ended, I wanted to sing and dance and scream it out to the world.  And so, I did. But…when you are  fully loving your partner or are newly 'in love' – only to discover that your guy does not feel the same way about you, it hurts.  If cheating is involved, it is a devastating heartbreaker and there is no easy way to soften that blow.
Soothing your heart takes time after a break up.  Various things work for different people. What I always needed were a couple of really great girlfriends to listen and cry with, a good bottle of wine, and lots of chocolate to make me feel better. That is what worked for me. Every single time any man has broken my heart, I have not wanted another man to replace him. But, for whatever reason, there has always been knocking at my door within a very short time frame.  It took me years to realize this was, more often than not, definitely not the wise decision to make…going out right away after a break-up. No matter what anyone says, your heart must heal. Time is the only thing that mends the broken pieces of your heart and soul so all can join together again as a whole. No other partner can provide an instant 'fix.'  That's called a re-bound.
So, what can we do to mend our broken hearts? That kind of sounds like a song from a long time ago, doesn't it? Seriously, what can you do to get past the open wounds left by your lover and move forward?  First, you must have a really good, long, hard cry. Then;
Get Over Him and Become Your Own Best Lover With These Four Tips:
• Love yourself first. Now, this may sound silly or even ridiculous, but it is not. As women, we are taught to be the nurturing ones. From the time we are very young and play with dolls, we are groomed to 'take care of them' in every way. We cook for our little dollies, we pick out their wardrobes, we help them drive their cars, and we teach them how to take care of their 'ouchies.'  This nurturing process carries straight into adulthood. How many women reading this right now even realized that? My guess is not too many. Therefore, it is difficult, if not impossible, for some women to learn to love themselves first, before all others. This is especially tough if one has young children in the household.  Just remember the old saying, "If Momma isn't happy, ain't nobody happy." Love yourself so much that you have more loving to spread around to everyone else because you feel so darned good!
• Avoid the desire and yearning to text, call, or see your Ex…the one who broke your heart. Under no certain terms should you make contact with your partner for any reason, unless you have children with him. This is an absolute rule. I know you have the desire and knife-stabbing hurt of all the 'whys' in your mind…why did he not tell you earlier, why did he have to be so sneaky, why did he clean out the bank account, why did he leave you hanging with no car to drive or even worse, why did he leave you with an $800. per month lease car in your name that he was paying for? The very best thing you can do for yourself is to forget about him and thank your lucky stars that this jerk screwed up now and not ten years from now. I promise you that.
• Masturbate. Okay, so don't freak out. You are reading the text correctly, so don't act like you did not see the word. You can love on yourself without having a man around. Some of the best sex is often by yourself. If you have never experienced an orgasm with a man, perhaps it is because you have not experienced it by yourself. What better time to really learn your own body than when you are alone? Buy a good vibrator, take long hot baths, light some scented candles, set the mood to ignite your senses, and play. Touch your body and feel all of your curves, the folds of your skin, and caress every tiny inch on your gorgeous female body. Get to know yourself and learn how to bring yourself pleasure. When in the shower, be sure you have a hand-held shower massage that pulsates. Play with it and take your time. You will not regret learning how to turn yourself on. Become your own best lover so that when it is time to bring a partner into your love life, you can show him exactly how you like to be pleased.  Your partner will appreciate this also!
• Treat yourself regularly, or as often as you can, to a massage, a facial, or even just getting your nails done. Get out and do the 'girl' thing with some big time pampering – whatever you can afford. If you have the money, go overboard when you've been slammed by your used-to-be lover and learn to be your own best lover. Go buy that beautiful handbag you've had your eye on and do some retail therapy!  If you are not in a situation where you can just go out and spend big bucks, you can still splurge on yourself. Back when I had little or no money, I could not understand this concept. Ladies, listen up. It costs virtually nothing to rally your best girlfriend, have a sleep-over, pop in a good movie, paint each other's toenails and do a manicure, share a couple of drinks or green tea (if you are non-drinkers), go to bed together super late and sleep in, get up and cook breakfast together, slurp coffee or tea while sitting outside wrapped up in fuzzy robes, and talk until your voice gets scratchy. There is nothing in the world like the comfort of a bestie. No man can replace your best girlfriend.
Healing is not an easy path, but it is worth the painstaking effort and so are you.  No words can truly describe a broken heart, regardless of all the books and poetry that have been written for centuries. This one thing you must be certain of. YOU are worthy of pure, unconditional love. Sometimes we must look a lifetime to find this love. There have been times that I felt like I would only have this type of love from my parents. That hurt my heart so much.  Then, I took my own advice and learned to love myself first. Now I can say that I am the happiest, most loving person I know. And, you can be the happiest, most loving person you know, also.